2018年いちばん輝いたビューティプロダクト
NYLON JAPANの年末を締めくくるビューティ企画、ビューティアワード2018!
今回は、NYLON JAPANチームと、ヘアメイク、ヘアサロンスタッフに
2018年に買ったアイテムのなかでそれぞれいちばんオススメのプロダクトをリサーチ。
あなたにマッチするアイテムを見つけて、新年のお買い物の参考にしてみては?
ALPHA: setup¥249,000 by costume national shoes¥62,000 by foot the coacher/gallery of authentic shirt and tie stylist's own
MAYBEN: coat¥81,000 by viviano sue bottoms¥63,000 by keisuke yoshida sandals¥31,000 by pippichic earrings¥15,000 by imac
EMILY: coat¥49,000 by charlotte simone/showroom uno dress¥63,000 by pinko boots¥22,000 by diana necklace¥29,000 earrings¥25,000 by ashley williams/grapevine by k3
ERIKA: top¥280,000 skirt¥220,000 by viviano sue pumps¥15,000 by mollini/ jack of all trades
ARIA: dress¥89,000 by pinko scarf¥12,000 by montmartre new york/brand news necklace¥29,000 ring¥7,500 by imac

最上級のメイクで昨日の私より、
もっともっと可愛く♡
MAYBEN: dress12,800 by haight & ashbury top¥19,000 by murral/matt. headband¥7,800 necklace¥35,000 by imac
ARIA: dress¥58,000 by keisukeyoshida
1. BEST HIGHLIGHTER
lightouring dual stick 06 ¥1,800*nylon jappan reserch by l'oréal paris
2. BEST PIGMENT
shimmer down pigment 06 ¥1,600 by nyx professional makeup
3. BEST METALLIC LIP
soft matte lip cream 11 ¥1,200 by nyx professional makeup
4. BEST BLACK MASCARA
snapscara 01 ¥1,200 by maybelline new york
5. BEST CLEAR MASCARA
motemascara technical 1 ¥1,600 by flowfushi
6. BEST EYESHADOW
single eyeshadow 5357 ¥2,500 by nars
7. BEST SMOOTH SKIN POWDER
aq mw face powder 80 all 5 colors 20g ¥5,000*1/16 renewal by cosme decorté
8. BEST EYEBROW
chip on eyebrow natural brown ¥1,200 by ettusais
9. BEST NAIL CARE POLISH
uka color base coat zero 3/0 grayish purple ¥2,000 by uka
10. BEST LIP LINER
rouge dior ink lip liner 999 ¥3,300 by dior
11. BEST GLOW SKIN POWDER
mineralized skin finish lightscapade ¥4,200 by m·a·c
12. BEST SPARKLE NAIL POLISH
girl king nail polish duo bosses be like ¥3,550 *2set price by nails inc
13. BEST LIP
rouge allure liquid powder 954 ¥4,200 by chanel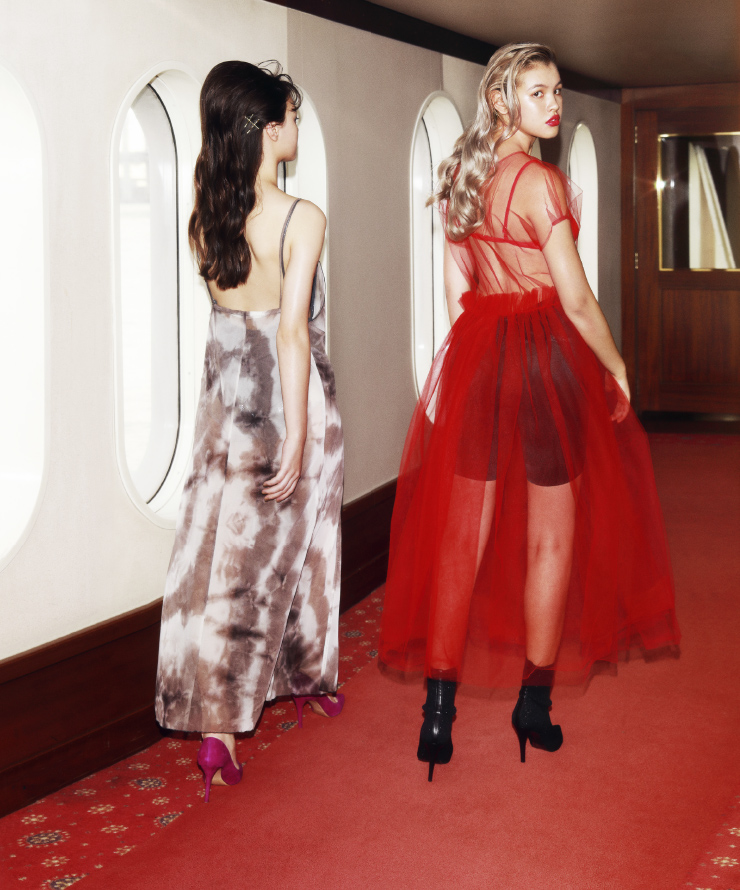 艶やかな髪でいることは女の宿命なのです
EMILY: dress¥22,000 by perverze/matt. pumps¥30,000 by pippichic hairpins stylist' own
ERIKA: boots¥20,000 by diana others stylist's own
1. BEST HOLD SPRAY
spiky styling spray ultra hard 190g ¥1,800 by iriya
2. BEST WET HAIR
nigella dressia jerry m 90g ¥1,800 by nigella/milbon
3. BEST HAIR OIL
5 sens oil 50ml ¥3,600 by rene furterer
4. BEST COLOR DAMAGE CARE
iau cream melt repair 200ml ¥1,600 *only hair salon by lebel/takarabelmont
5. BEST HAIR DRIER
hairdr yer nano care eh - na9a *open price by panasonic
6. BEST PINK SHAMPOO
calatas treatment heat care pk 250ml ¥2,280 by calatas shampoo
7. BEST OIL
seek essence 125ml ¥2,477 by shima
8. BEST SCULP CARE
hair rituel revitalizing fortifying serum for the scalp 60ml ¥19,800 by sisley
9. BEST HAIR MIST
ocean mist 150ml ¥3,000 by sachajuan/george&oliver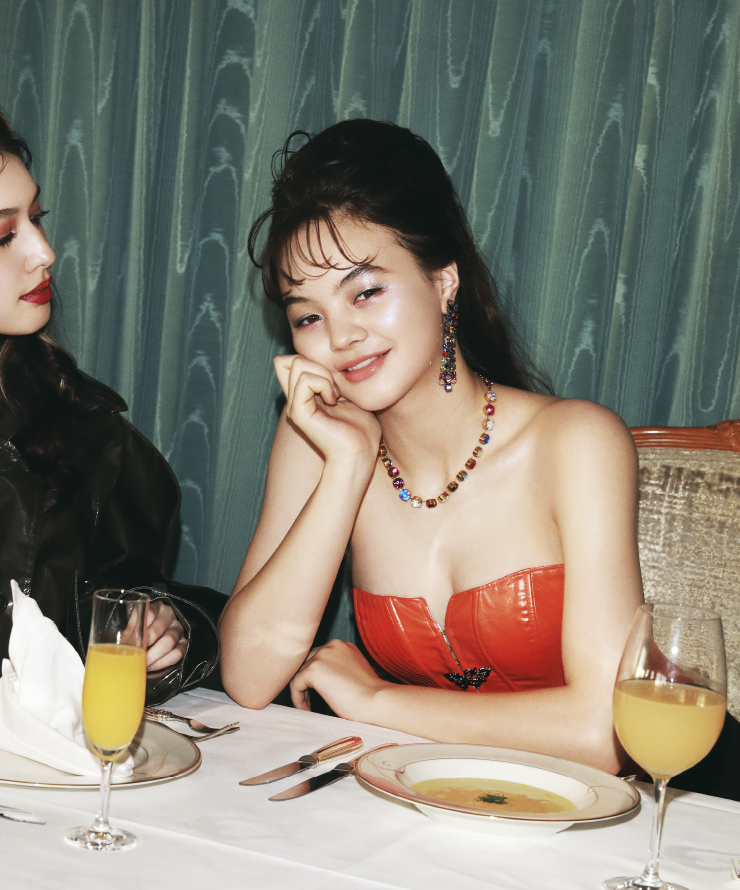 今年あなたをつやめく
お肌へ導いてくれたのは?
corset¥25,000 by 5-knot/ esteem press earrings¥20,000 necklace¥23,000 by imac
1. BEST BRIGHTENING SKIN LOTION
brightening lotion 150ml ¥4,000 by forganics/mashbeautylab
2. BEST RECOVERY WATER
herb care water 80ml ¥7,400 by shiro/laurel
3. BEST OIL CLEANSING
sakura refreshing cleansing oil 150ml ¥3,000 by shu uemura
4. BEST SERUM
capture youth glow booster 30ml ¥11,500 by dior
5. BEST RELAXING WATER
acqua di rose 250ml ¥3,500 by santa maria novella
6. BEST FRESH SOAP
magic soap 236ml ¥1,100 by dr.bronner's sahara international group
7. BEST FACIAL OIL
kneippbio oil rose ¥1,800 by kneipp
8. BEST EYE CREAM
or rouge eye cream 15ml ¥20,000 by yves saint laurent
9. BEST MOISTURIZING LIP CARE
lipscrub cranberry fizz ¥1,065 *limited sale by lush
10. BEST SKIN PEEL
takami skin peel 30ml ¥4,584 by takami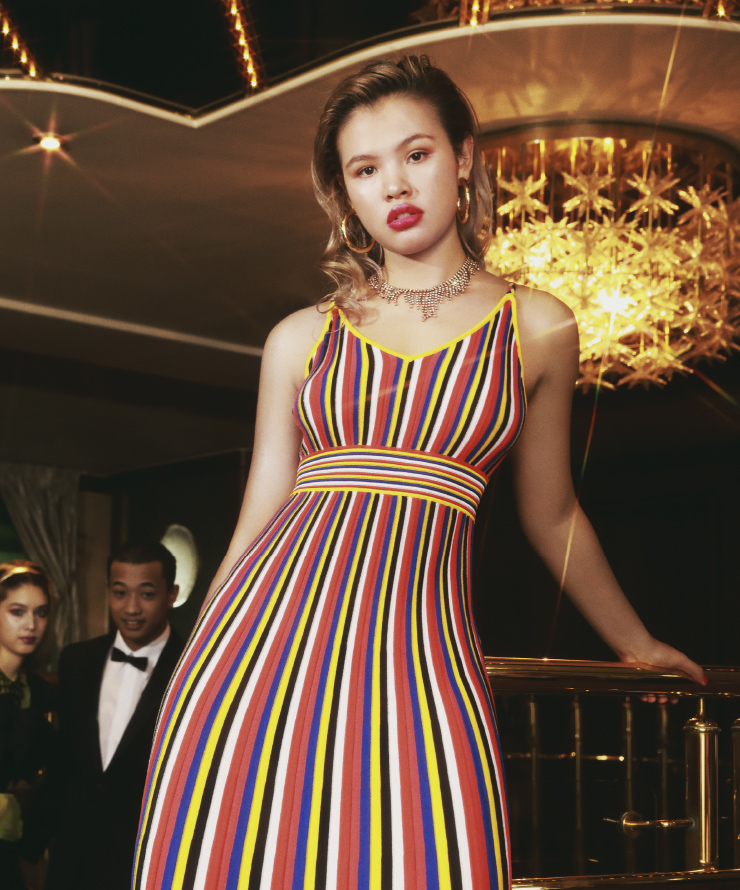 やっと見つけた、
完璧ボディをつくる
最終兵器
dress¥58,000 by pinko earrings¥5,300 necklace¥23,000 by imac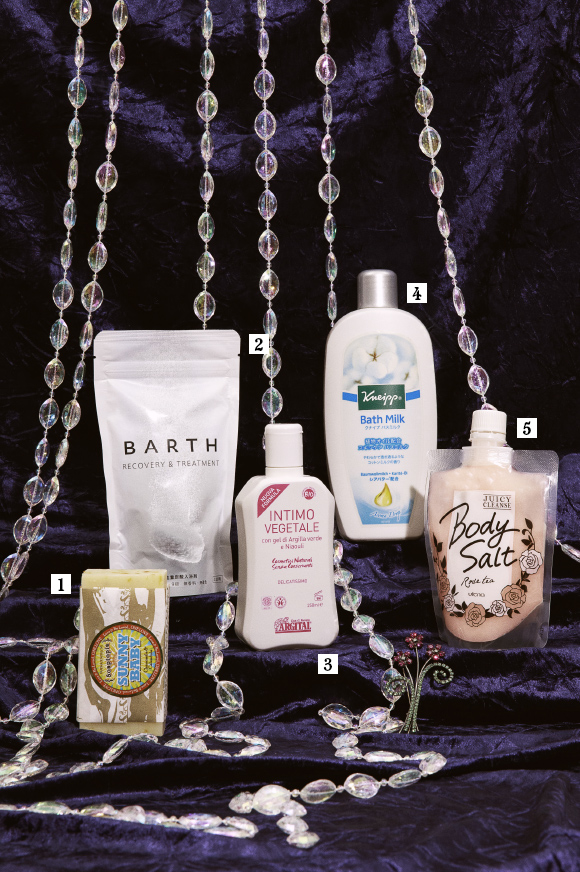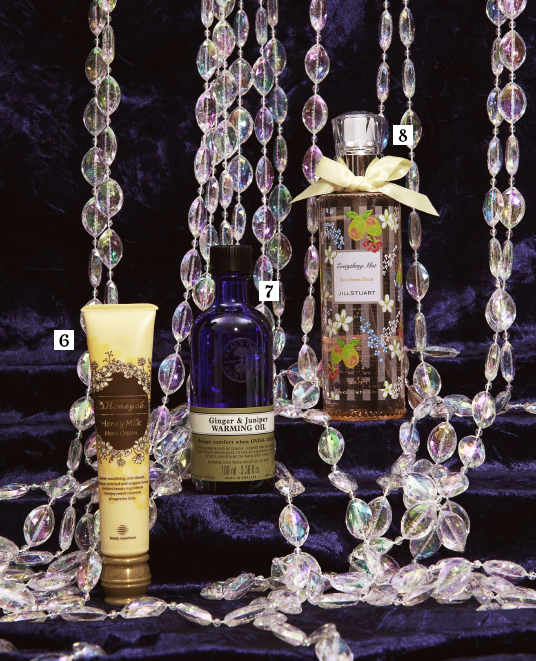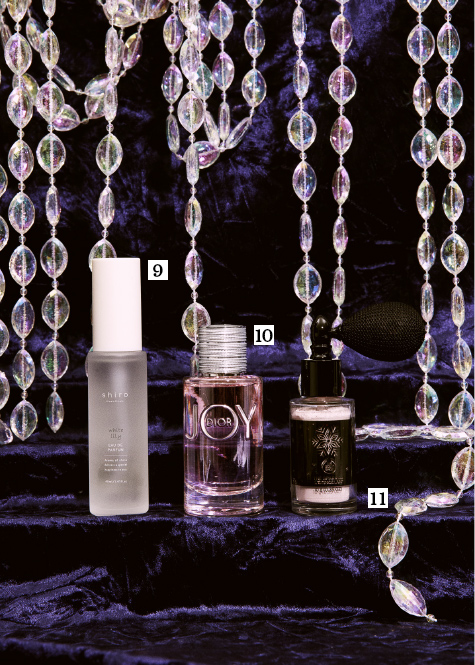 1. BEST SOAP
bar soap sunny baby ¥1,500 by soaptopia
2. BEST BATH TABLET
barth bicarbonate bath tablets ¥900~*depends on amount by two
3. BEST DELICATE ZONE CARE
delicate hygiene soap 250ml ¥2,600 by argital
4. BEST BATH MILK
bath milk cotton milk 480ml ¥1,200 by kneipp
5. BEST BODY SALT
body salt rose tea 300g ¥1,200 *limited sale by juicy cleanse
6. BEST HAND CREAM
honey milk hand cream 42g ¥550 *limited sale by honeyce
7. BEST WARMING OIL
ginger & juniper warming oil 100ml ¥3,200 by neal's yard remedies
8. BEST MIST
everything mist j juicy sunny floral 200ml ¥3,000*limited sale by jill stuart
9. BEST PERFUME
white lily eau de parfum 40ml ¥3,800 by shiro
10. BEST HAPPY FRAGRANCE
joy eau de parfum 50ml ¥12,000 by dior
11. BEST BODY POWDER
the sparkler pink glimmer ¥3,500 *limited sale by the body shop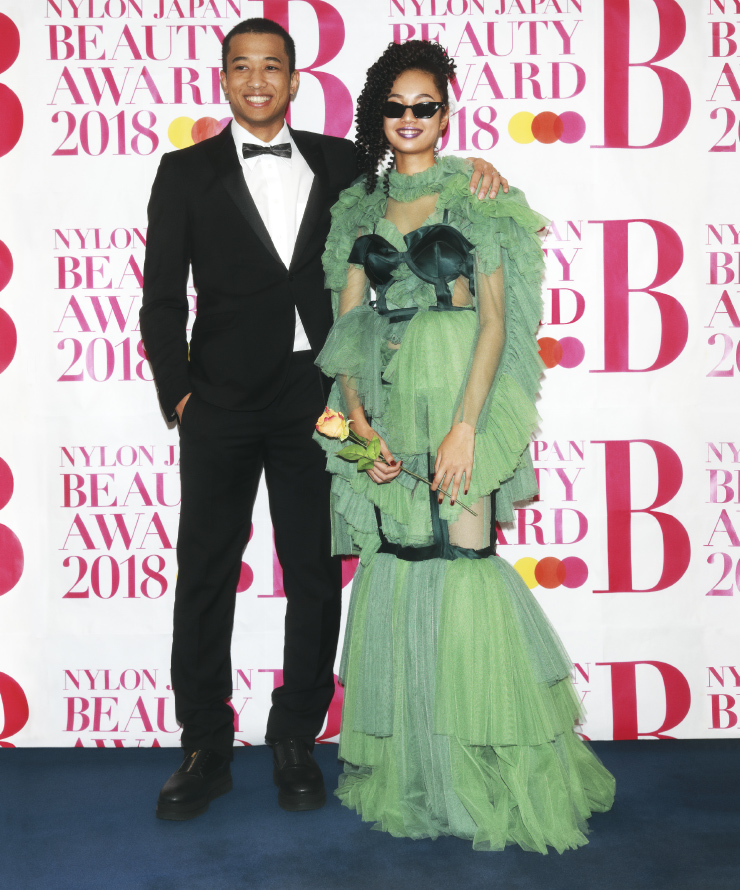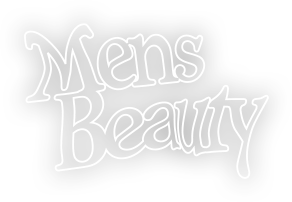 私の隣を歩くなら、
彼にも美しくいてほしいの
corset dress¥280,000 dress¥320,000 by viviano sue sunglasses¥2,500 by bed
1. BEST SHAMPOO & CONDITIONER
scalp & hair refining shampoo 250ml ¥3,700 scalp & hairorderange conditioner 165g ¥3,300 by three
2. BEST HAIR CLAY
hair clay 75ml*sample by cuts
3. BEST SURFER HAIR
light pomade 85g ¥3,000 by byrd
4. BEST TOOTHPASTE
toothpaste 75ml ¥2,300 by marvis/upper house
5. BEST TOOTHBRUSH
tsystema "sonic assist" brush pink*open price by lion
6. BEST UV CARE
uvidea xl protection mist 50g spf50 pa++++ ¥2,500 by la roche-posay
7. BEST TONER
the toner 200ml ¥3,000 by bulk
8. BEST SKIN LOTION
facial fuel energ izing moisture treatment for men 125ml ¥4,700 by kiel's since 1851
9. BEST SKIN CREAM
skin-meditation day perfection 30g ¥6,000 by oltana
10. BEST SKIN SPRAY
prep prime fix+ 100ml ¥2,800 by m·a·c
PHOTOGRAPHY: WAKABA NODA
STYLING:AI SUGANUMA
HAIR:MASATO TSUCHIYA
MAKEUP: NAO YOSHIDA
MODEL: ALPHA, MAYBEN, EMILY FUJITA(IRVING),
ARIA ASAKAWA(META-LINK), ERIKA HAWK(NAME)
EDIT: MAYA MIYASAKA
DESIGN: MIZUKI AMANO
VIDEOGRAPHY: KAORU NISHIGAKI
WEB DESIGN: CHINATSU IKARASHI